PRODUCTS & SOLUTIONS
¡@
ProofMaster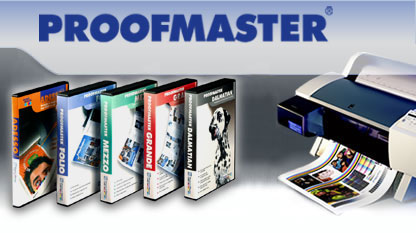 ProofMaster uses a PDF workflow, Incoming PostScript files are first distilled into a high-resolution PDF from which the proof is produced. Once the customer has approved the proof, the PDF Export function allows you to take this same PDF file and send it to the platesetter, reducing the chance of a PostScript error. Alternatively, you can send files from your platesetter RIP to ProofMaster using secure data formats such as TIFF/IT, PDF/IT, PDF/X1 and more.
Fingerprint Technology
Color calculations with ordinary ICC profiles use straight-line interpolation. ProofMaster Fingerprints use a mathematical formula based on press parameters - dot gain, ink transparency and over-print-for its calculations. Using a formula instead of straight-line interpolation reduces many of the problems seen in digital proofs. Proofs printed with Fingerprints have :
- Smoother color blends with less rainbowing.
- More neutral gray balances.
- More accurate color, especially in highlights and pastels.
ProofMaster can even transform ordinary ICC profiles into Fingerprints, bringing you the benefits or Fingerprints while allowing you to use standard ICC profiling tools.

Remote Proofing
You can do two types of remote proofing. First, ProofMaster can make a low resolution PDF file which can easily be sent to your customer via Internet. Your customer opens this PDF with ProofMaster Viewer and applies the ICC profiles for his local press. The result is a color-calibrated Softproof. Once you customer approves the Softproof, you can then remotely launch a hardcopy proof of the same page on your customer's proofer.
ProofMaster v2.0 includes some very new and exciting features
1. Automatic nesting of different jobs onto a single larger page.
2. ProofMaster Calibrator are now built directly into the RIP.
3. Extra tools for editing color calibrations.
4. "Certify Proof" option allows users to measure proofs and certify that they are accurate.
The ProofMaster Family
ProofMaster Adesso and AdessoPlus
Color printing software for proofs and digital photos. For designer, photographers, publishers and advertising agencies who want to make their prints in-house. Easy to install and configure.
ProofMaster Folio, Mezzo and Grande
Professional proofing software for proofing. For mid-sized advertising agencies, color separators and color printers.
ProofMaster Dalmatian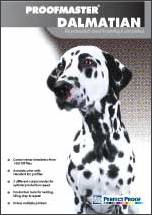 ProofMaster Dalmatian
Proofing for the most demanding color separators, offset printers and gravure printers. Accepts 1-bit TIFF files from filmsetter and platesetter RIPs so it is perfect for integration into CtP workflows.
<< BACK
Copyright (c) 2003 by INCOMEX Ltd., All rights reserved.
Best Viewed by Microsoft Internet Explorer 5.0 or higher at 800 x 600 Screen Resolution.